Vital Roof Cleaning Services To Protect Your Property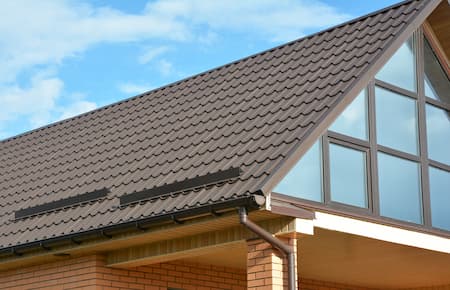 Roof cleaning's requisite low-pressure washing method necessitates a detergent soaking before starting. Common reasons for performing roof cleaning are to clear the area of unwanted growths that may harm the structure of the shingles over time. These growths can be organic like mosses, lichens, or fungi; or inorganic, like oxidation (rust). Each of these is considered invasive to roofs because they can undermine the roofing design by growing underneath and between shingles. These growths can cause premature structural damage or compromise the integrity of the design. Long-term growths can also decrease the value of your property by becoming widespread hazards that are more and more difficult to cleanse over time. This is what regular roof cleaning will help to prevent.
Soaking these growths with water and cleaning detergents is an important step before pressure washing that prepares the roof area. The detergents will soak into all invasive growths and loosen their adhesive bonds with the shingles. Over a matter of minutes, the growths will substantially unbind from your shingles, and a percentage of them will begin to float freely in the thin layer of cleaning solution applied to your roof. Once this unbinding process is complete, it will be a simple task to use low-force water spray to rinse the solution off your roof, taking all invasive growths with it.
Be sure to check out Somebody's Gotta Do It LLC's other exterior surface cleaning service while arranging a roof cleaning!
Enhance Your Home's Appearance With Roof Cleaning
When your roof is covered in algae, moss, and debris, it brings down the appeal of your home and detracts from its value. Routine roof cleaning by Somebody's Gotta Do It LLC reverses this problem and helps improve your home's outer appearance dramatically. Our roof will remove bird droppings, dead leaves, tree sap, algae stains, lichens, and any other eyesore present to brighten the look of your roof in just a matter of hours. You'll have a roof that looks good as new with one quick, convenient service by us! Call today for roof cleaning and more in West Nyack.
Thorough Roof Cleaning Experts Serving The Community
It is not a secret that roof cleaning can double your roof's lifespan and that without regular cleaning and maintenance, your tile roof will not last as long as it should. By investing in West Nyack roof cleaning services, you can extend your home's roof life expectancy by up to twice its remaining life.
Algae, mold, and moss all lead to rot, which can result in leaks that put all the personal property underneath your roof at risk but our roof cleaning services for West Nyack homes help with sand, grit, dust, and other debris that has settled onto a roof's surface and can eventually become airborne making its way to your home's pool, patio, deck, flower beds, and other such surfaces, creating an unsightly mess and damaging these exterior surfaces of your property.
Roof mold and algae are only one of many culprits that cause black streaks on roofs. By taking advantage of our roof cleaning services you can expect it to last many more years. Pressure Washing for West Nyack done by Somebody's Gotta Do It LLC will ensure your roof is clean and less susceptible to future damage.
Soft Washing Roofs To Best Maintain Your Curb Appeal & Property Health
Somebody's Gotta Do It LLC uses a form of low-pressure washing known as soft washing for our roof cleaning service. Soft washing is perfect for roof cleaning because instead of expelling water at high pressure, it uses little to no water pressure at all! Soft washing relies on a higher concentration of eco-safe cleaning solutions to loosen up and wash away any contaminants and eyesores on your shingles. With our soft washing system of roof cleaning, you won't have to worry about your shingles being needlessly dislodged or damaged, and you'll get a spotless roof that is ready to serve you for a long time to come.
Experienced Roof Cleaning Pros
Somebody's Gotta Do It LLC is your leading professional for residential roof cleaning in West Nyack. Your home's roof is undoubtedly one of the most important features of your home. It's also the one that takes the majority of abuse from harsh weather and the elements. Our team wants to help protect your roof and keep it in good shape over the years with our professional soft washing service. By scheduling roof cleaning with us, you can help your roof stand the test of time and look great while doing it!
As one of the most important fixtures of your home, your roof will need professional cleaning at least annually to avoid damage from things like mold and algae. These organic growths feed on roof shingles and underlying roof components, resulting in gradual decay. Professional roof cleaning and pressure washing for West Nyack homes kills off these invaders and helps shield your roof from damage. This helps your roof reach its maximum lifespan and reduces the need for costly repair work over the years.
Soft Washing Specialists To Handle Your Roof Washing Needs
Thinking about pressure washing your roof? You might want to think again. Pressure washing uses a high PSI that can quickly loosen and damage shingles, creating more harm than good. So if your roof is looking a little green around the edges, no worries, Somebody's Gotta Do It LLC are your soft washing specialists!
Soft washing is a safe and effective method when you need roof cleaning. Soft washing uses lower pressure and mild detergents to lift and wash away mold, algae, dirt, and more from your roof.
Regular roof cleaning is shown to help extend the life of your shingles by up to two years! So if you've been putting it off, a yearly roof cleaning is always a good idea. Save time on money and maintenance and show your house you love it by investing in roof cleaning today!
A Safe And Clean Investment For Your Roof
Your roof is a very important part of your home. Without a well-maintained roof, you're likely to suffer and be responsible for high costs. One way to avoid such disasters is by investing in a low-cost and efficient manner of maintenance: roof washing.
Roof washing gets your roof clean fast and will eliminate all instances of staining, grime, mold, and algae. This will also help keep your roof looking good. It's a service that every homeowner will have to invest in to protect their property's integrity. At the very least, we recommend an annual roof washing.
Somebody's Gotta Do It LLC Cleans your Property from Top to Bottom, Starting With Roof Cleaning
We offer excellent services like roof cleaning and other exterior surface cleaning services because we know how integral maintaining a home is to be a homeowner.
Curb appeal is a critical part of your home. When you invite guests over, you should want them to be impressed by how your home looks.
All of our professional pressure washing services help residents increase their home's curb appeal by cleaning dirt and the like from the surfaces of your home. Our services transform homes into beautiful, pristine properties in which property owners can take pride.
Services We Offer Aside From West Nyack Roof Cleaning
Building Washing
Commercial Pressure Washing
Drive-Thru Cleaning
Dumpster Pad Cleaning
Fence Washing
Gas Station Cleaning
Gutter Brightening
Gutter Cleaning
House Washing
Residential Pressure Washing
Roof Cleaning
Frequently Asked Roof Cleaning Questions
Professional roof washing is a safe and effective way to clean your roof. It ensures that your roof is cleaned properly and that no damage is done to the roof in the process. Professional roof washers also use specialized cleaning agents and techniques that can help to make your roof look better and last longer.
It is recommended that you have your roof washed annually. However, depending on the climate and other environmental factors, you may need to have your roof washed more frequently.
Professional roof washers typically use a combination of cleaning agents to get the job done. This includes a variety of environmentally friendly specialized cleaning agents depending on the type of roof and the type of debris that needs to be removed.
It is not recommended that you pressure wash your roof yourself. Professional roof washers have the experience, knowledge, and specialized equipment to safely and effectively clean your roof without causing any damage.
LEAVE THE RISK TO US!

CONTACT YOUR ROCKLAND COUNTY PRESSURE WASHING COMPANY TODAY!