Professional House Washing Specialists To Keep Your Home Looking Great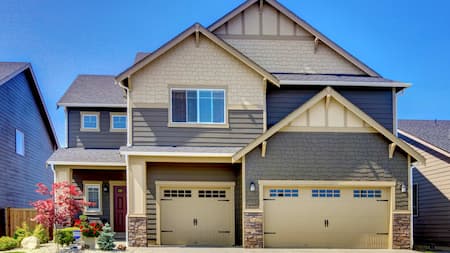 When it comes to house washing for your West Nyack home, the exterior cleaning pros at Somebody's Gotta Do It LLC are reliable and detail-oriented, and your satisfaction is always guaranteed. We're our own toughest critics at Somebody's Gotta Do It LLC - when we're happy with our work, we know you will be, too!
Our highly-trained and skilled specialists use eco-sound cleaning products, professional equipment, and custom cleaning applications to safely clean your vinyl siding, brick, wood, and more. Routine house washing eliminates organic growth, grimy buildup, and unsightly stains, not only enhancing your curb appeal but also extending the life of your surfaces and protecting your West Nyack home from damage.
To schedule house washing or other West Nyack pressure washing area homes, use our easy online form or give us a call at 845-535-1083 to speak to one of our friendly exterior cleaning specialists.
Eliminate Toxins And Allergens From Your Exteriors With House Washing
Are you ready for the top company for West Nyack pressure washing properties to clean up your exterior? Over time, things like pollen, dust, and other allergens accumulate on your surfaces. These pesky irritants cause health problems like sinus infections, respiratory illness, and other unpleasant symptoms in humans, so you don't want to leave them to sit and possibly transfer to your home's interior. Furthermore, toxic growths of mold can form on several of your home's exterior surfaces. Mold not only causes health problems in humans but can also eat away at your home's outer shell and lead to costly damage. House washing kills mold and other organic growths like algae to stop their spread and ensure they can't wreak havoc on your property. Call today for your free estimate.
Exterior Residential Surface Cleaning
Do you have other buildings on your residential properties? Are you looking for a professional cleaning service to work on your detached garage? Do you need cleaning for a playhouse or shed? Our experts are here to help.
Any surface made of siding or shingles benefits from professional soft washing. This gentle cleaning process will leave all your residential buildings clean and sanitized. If you're ready to invest in professional cleaning for your property, call us today and speak with our experts.
Call Today to Schedule Your House Washing Consultation
Our pressure washing team is ready to tackle your toughest project. Our goal is to get your house washing job done quickly and efficiently so that the results meet your high expectations. We are ready to prove that we're the best in the area for your house washing and exterior surface cleaning. Give us a call to schedule your free consultation.
For sparkling clean siding that looks flawless from every single angle, why not give our world-class professional house washing service a try? This high-quality service is perfect for ensuring that your West Nyack area property looks and feels its very best all throughout the year, and the exterior cleaning expertise offered here at Somebody's Gotta Do It LLC comes second to none. If you're interested in working with the leading experts when it comes to West Nyack pressure washing and the surrounding areas, then you've come to exactly the right place!
A Proper Cleaning For Your Home's Exterior
House washing services are essentially a shower for your home. Just like you wash your body to get rid of dirt and grime, we wash your home to get rid of stains and pollutants. It's an important job that helps everyone.
You can look at it as an investment in the health and longevity of your home. This service can be used as a facelift tool or as a way to improve the value of your home. Whatever the case is for you, house washing is more than meets the eye.
It's a service that we recommend every homeowner receives at least once a year to better maintain and protect the exterior surfaces for the entire year.
Somebody's Gotta Do It LLC is more than happy to get your place of residence clean and stain-free. We know that it can be rather time-consuming and labor-intensive to have to do the work on your own. With our help, you can rest easy while we take care of it all.
Somebody's Gotta Do It LLC is happy to be able to work with residential communities to ensure that the whole neighborhood is clean and fresh, as well as maintain a certain standard of living. With our help, the community will be able to come together unlike ever before. Contact us today to learn more about house washing and our exterior residential cleaning services.
Exterior Home Cleaning Professionals Helping Homeowners
House sidings are durable, but without their regularly required maintenance, they'll end up falling short of their expected lifespan. Professional house washing is the upkeep your sidings need to keep their beauty and last you for years to come. Here at Somebody's Gotta Do It LLC, we have experience cleaning all types of house sidings, and our experts specialize in the safe removal of all kinds of grime and contaminants.
With our soft washing system of house washing, we'll give your sidings a thorough clean that will have them looking better than ever! You also don't have to worry about any damage to your lawn or landscaping because our premium cleaning solutions are completely eco-friendly. Some of the benefits that you can expect from our professional house washing service include:
Our deep clean of all your sidings will significantly enhance your home's curb appeal.
We eliminate illness-causing contaminants such as allergens, bacteria, and germs.
House washing protects your sidings' weather sealant and can extend their lifespan.
Our service prevents the spread of organic substances such as mildew and algae.
House washing is perfect for preparing your home for a new coat of paint.
Protect your home with house washing, and you'll enjoy its beauty for much longer. For house washing and pressure washing that you can always depend on, give Somebody's Gotta Do It LLC a call!
World-Class House Washing To Keep Your Home Looking And Feeling Its Very Best
Your home is the main attraction of your West Nyack area residential property, and what better way to help make it truly stand out among the rest than by utilizing our top-of-the-line house washing service? Unsightly dirt, grime, and organic growth stains not only detract from the overall look and feel of your siding, but they're also detrimental to the structural integrity of your home. So if you're looking for a way to ensure that your home stays standing strong for decades to come, this is it. After all, we're the leading provider of top-notch West Nyack pressure washing for homes and businesses, and you can trust the experts at Somebody's Gotta Do It LLC to get the job done right the first time, guaranteed!
Exterior Residential Cleaning By Skilled Experts
Have you gotten a good look at your home's exterior? If so, then you may notice that it's covered in all manners of grime and gunk. This can make your home look decrepit and unkempt. You deserve to have your house looking amazing, and with our house washing package, we can help you achieve that!
Our house washing offering involves us cleaning your home's exterior from top to bottom. We start at the roof and then work our way down to the foundation, making sure we scrub every surface we can reach, including your windows, doors, siding, stoop, and more. We get into every nook and cranny, leaving no spot untouched.
After we're done with our house washing, you'll have a chance to stand back and admire our handiwork. In the unlikely event that you're not satisfied with our service, we ask that you please notify us right away. We'll do everything in our power to come up with a quick and effective solution. We don't consider our work done until we know you're happy.
Although we take great pride in our house washing services, we want you to know that we offer a wide range of other exterior clean options as well. No matter what you need to be done, you can rest assured knowing you're in good hands with us.
Ready to find out more about our West Nyack pressure washing work? Don't hesitate to reach out to us at Somebody's Gotta Do It LLC today. When you call us, you'll be put in touch with a pressure washing specialist who will be more than happy to assist you with any and all of your questions, comments, and concerns.
Services We Offer Aside From West Nyack House Washing
Commercial Pressure Washing
Drive-Thru Cleaning
Driveway Washing
Dumpster Pad Cleaning
Fence Washing
Gas Station Cleaning
Gutter Brightening
Gutter Cleaning
House Washing
Residential Pressure Washing
Roof Cleaning
Frequently Asked House Washing Questions
The type of pressure washer used to clean your house depends on the type of surface and the degree of cleaning needed. Different pressure washers have varying levels of pressure - including soft washing tactics - and the right pressure washer should be used for each job.
The amount of time it takes to pressure wash a house depends on the size of the house and the degree of cleaning needed. Generally, a professional pressure washing job takes a few hours or less.
It is not recommended to pressure wash your house yourself. Pressure washing is a job best left to professionals, who have the proper equipment and experience to provide a thorough and safe clean for your home's exterior.
Our pressure washing company has experience providing professional pressure washing services. We use the latest equipment and cleaning solutions to provide a thorough and safe clean for your home's exterior.
LEAVE THE RISK TO US!

CONTACT YOUR ROCKLAND COUNTY PRESSURE WASHING COMPANY TODAY!