Thorough Graffiti Removal, Done Right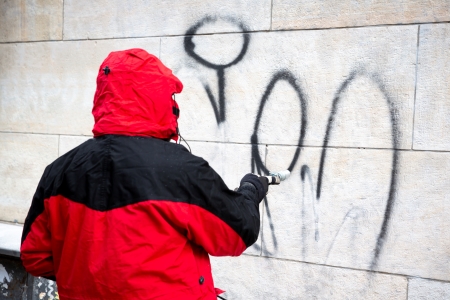 Somebody's Gotta Do It LLC offers fast graffiti removal for West Nyack business owners! Nothing is worse than coming to work in the morning only to be greeted with unwanted graffiti. That is why Somebody's Gotta Do It LLC is proud to offer rapid graffiti removal for business owners.
Our extensive line of commercial pressure washing services have you covered from the roof to the parking lot!
Graffiti removal
concrete cleaning
fleet washing
As a business owner, you can't do it all yourself! Hiring the experts from Somebody's Gotta Do It LLC will save you time and money. Customers will benefit from our experience and knowledge while getting peace of mind that we have the best equipment to safely tackle any job, even troublesome graffiti removal!
Say goodbye to unwanted vandalism with graffiti removal from Somebody's Gotta Do It LLC! Call us today at 845-535-1083 to schedule your next service.
Fast Spray Painted Vandalism Removal For Business As Usual
When graffiti pops up it's important to make sure it's taken care of right away. Studies show that when vandalism is left alone it's a sign that it's okay to paint there, and more graffiti will follow. However, quickly removing the graffiti tells vandals not to bother.
Even if the graffiti is harmless it can give customers the impression that the area is messy and unsafe, causing them to take their business elsewhere.
If you're having problems with graffiti, then call us! Somebody's Gotta Do It LLC offers rapid graffiti removal to blast away signs of vandalism and return your surface to like-new condition.
Expert Spray Paint Cleaning To Quickly Get Rid Of Your Vandalism
Keeping your business looking clean and professional means removing any graffiti that shows up. Somebody's Gotta Do It LLC's expert pressure washers have the skill and tools to remove spray paint and signs of vandalism so that your surface looks as good as new.
Don't waste time trying to paint over graffiti or scrub it away only to find you can still see a lingering shadow. One call to Somebody's Gotta Do It LLC, and you can consider the problem solved!
Frequently Asked Graffiti Removal Questions
Yes! Somebody's Gotta Do It LLC is proud to offer graffiti removal for home and business owners. No one likes to come into work or go outside the next morning and see their freshly painted surface ruined with stray graffiti. Having graffiti removed by a professional service helps avoid further damage to your surface while delivering a like-new result.
Using the right amount of pressure is essential when it comes to removing signs of vandalism. Too much pressure and you can damage =brick or even concrete. But use too little pressure and you'll fail to remove all signs of the spray paint. Hiring professionals with the experience and knowledge to safely and effectively remove graffiti is the best way to save you time and money while returning your surface to pristine condition.
LEAVE THE RISK TO US!

CONTACT YOUR ROCKLAND COUNTY PRESSURE WASHING COMPANY TODAY!